Searunner 31' Trimaran
Pineapple Express
---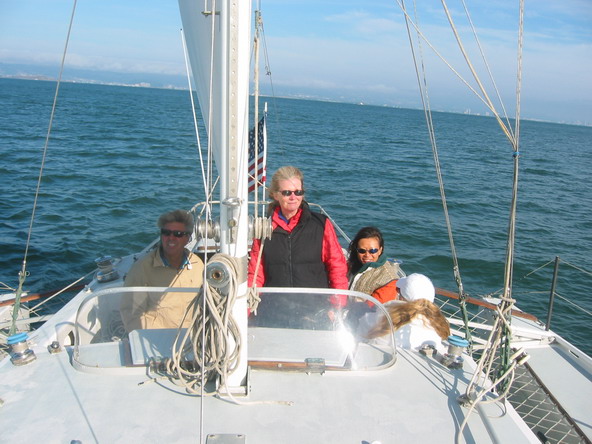 ---
If you've got the bandwith the best way to see my boat under sail is via this VIDEO. (It may take a minute to download). Notice we are fairly closely hauled and making about 9 knots. The boat is heeled over no more than 15% and everyone is comfortable.
---
A few notes about this boat: When I was perhaps 14 years old I met Jim Brown, the designer of this boat at a boat show in Southern California. I have always been impressed with his designs. It is interesting to note that his Searunner series of racing/cruising trimarans included a wide number of sizes. Yet, the designer chose his 31' design to build for he and his family to cruise aboard. A family of 4, they ultimately took their boat from San Francisco, through the Panama Canal to the East Coast of the USA.
I purchased this boat from Stuart Kiehl in the Summer of 2006. It is virtually the opposite of my last boat insofar as it is older, less sophisticated, and a sailing trimaran rather than a power catamaran. Here's information on my last boat, Canistel.
---
A major cruise? I bought this boat the the idea of sailing it down to Mexico, possible further. One interesting thing about this boat-- it is de-mountable and could be delivered over land, to Florida, for instance.
---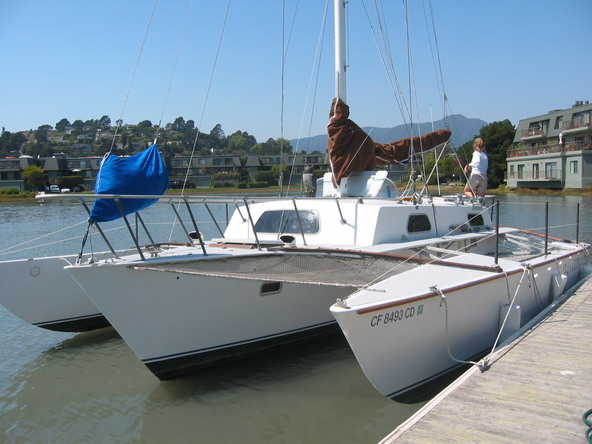 ---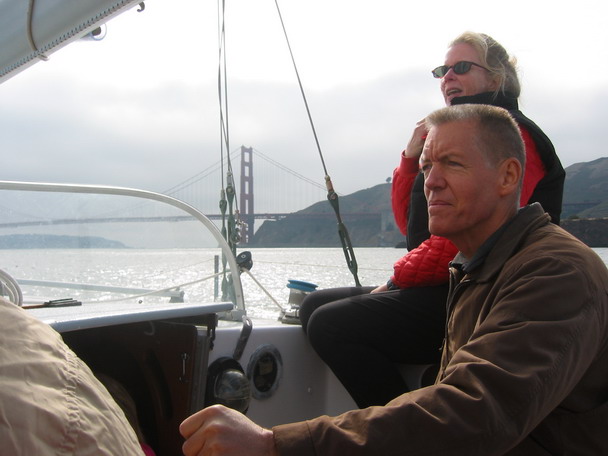 My Friend Jill Harrington who I met in Florida a decade ago joins me for a sail. (Golden Gate in background).
---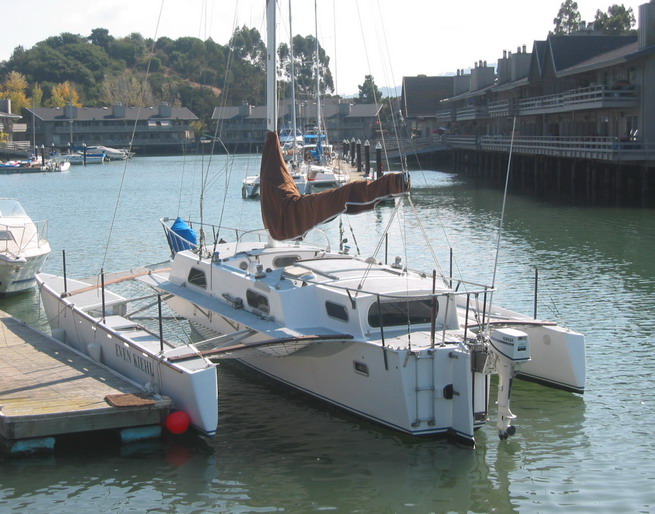 All of the Searunner Trimarans feature a Sterncastle (rear cabin) and center cockpit design. Engine is a 9 hp Yamaha outboard.
---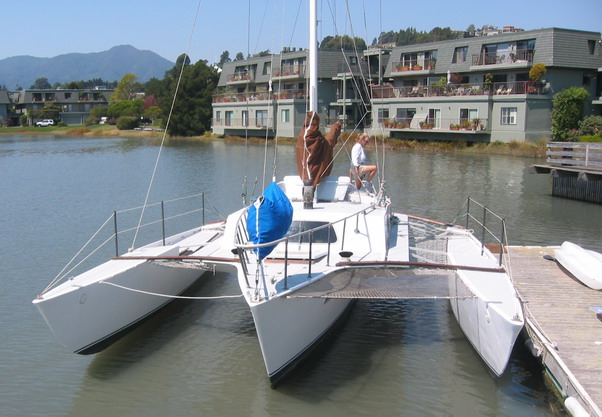 A trimaran has 3 hulls. The center or main hull has the interior accommodations. (Berths for 4 in two cabins on this boat). The outer hulls provide stability. The result is this boat does not require ballast like most sailboats, making it much lighter. The boat has positive bouyancy and even if it could be flipped, it will remain floating. This boat was built in 1978 and is in remarkable shape. It is powered by a 9.9 Hp Yamaha outboard.
---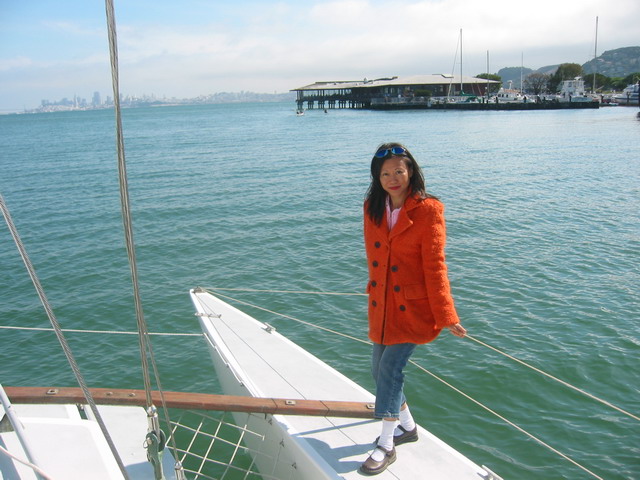 Sharoll in the calm before the storm! (Sausalito waterfront to the right).
---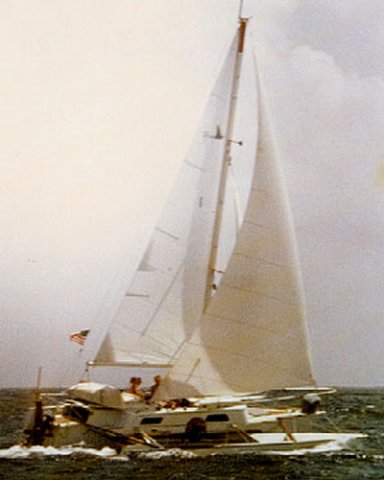 The designer's own Searunner 31', Scrimshaw in ideal conditions
---
Some Searunner Links
Main Searunner Page (Brown/Marples)
Why I love the Searunner 37 by Charles Kanter
In this article the boat's designer describes:
Aspects of his overall design philosophy for the Searunner 31
How he built his boat in Northern California
How he & his family of 4 sailed the boat to Panama, Cuba, and the East Coast
I highly recommend this article
---
Photo of my boat at www.kkmi.com where I did extensive work on it, including painting in 2007: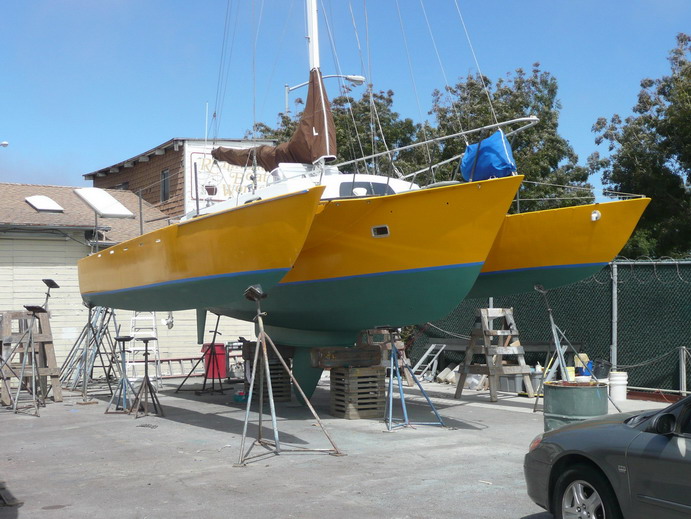 KKMI is the premiere boatyard in Northern California. . Red boot top striping came next, and installation of rub rails, and trampolines. By the time she launched, she'll was definitely one of the better looking Searunner Trimarans in the world. (I'm being modest here). She may be THE BEST looking such boat in the world. What you see above is a work in progress. (A TON of work).
In light of the new color, I've re-christened her "Pineapple Express." (Pineapple Express is the name of a weather condition of moist air from Hawaii reaching the West Coast). Pineapples also have a color similar to the one we've just painted, and express is fitting because this boat sails along pretty dang fast.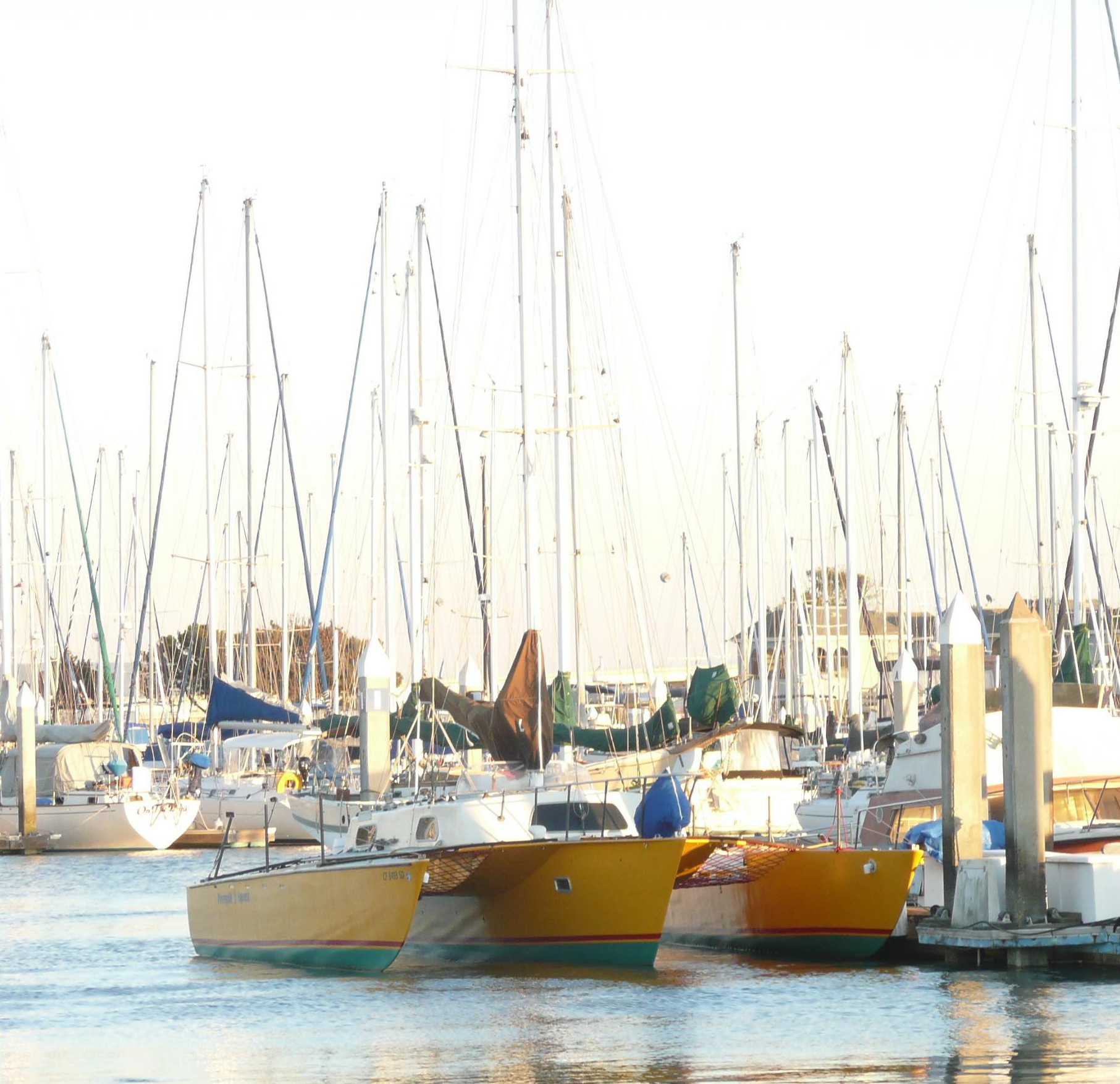 Pineapple Express (the finished product)
---
Additional Photos of boat (mostly interior)