Canistel anchored off Eleuthera Island February 2004
Bahamas cruise photo highlights
General MV/34 Passagemaker Information
---
Report of the Voyage of
CANISTEL from Ft. Lauderdale
to the Bahamas
February 3-22 2004
668 Nautical Miles
---
Introduction
On February 22, at 6:30pm it was beginning to get dark. I turned on my navigation lights. The green (Starboard) light did not come on. I find about every third time I switch on my running lights one or more of them fail. This annoys me. Mumbling under my breath, I throttled back to about 7 knots, made my way forward with screwdriver, replacement bulbs, and CRC spray to fix the light. I laid down on the starboard bow of my boat, and looked out over the vast expanse of sea glittering in the moonlight. I suddenly became embarrassed that I was frustrated. I thought, "I may be frustrated by this non-working running light. But, how many men ever get to own their own boat, much less be in complete command of it on such a fantastic cruise through such beautiful waters in such warm and comfortable February weather?" "I am so fortunate, so blessed!" On the sea we have different frustrations than we have ashore. It is very therapeutic and enlightening to trade frustrations for a time. This trip was made in my 50th year and was a cruise, a vacation, an adventure, a spiritual retreat, a time of reflection, healing, and refocusing.
---
Contents:
What I realized about cruising in the Bahamas
Daily life aboard Canistel (under development)
Conclusion (under development)
Bahamas cruise photo highlights
---
· Bimini
· North Cat Cay
· Chub Cay (Berry Islands)
· Nassau
· Eleuthera
o Harbor Island
o Spanish Wells
· Exumas
o Norman Cay
o Warderick Wells Cay
o Allen's Cay
·

Andros Island
---
· Private coves and beaches which I could enjoy in complete privacy and solitude.
· The clearest water I've ever seen.
· The greatest frustrations I've ever known trying to use a telephone.
· The wholesale slaughter and destruction of conch crabs by the tens of thousands daily in the Bahamas for 'food'
· The worst availability of fresh produce in supermarkets I've ever seen.
· Sleeping on the fly bridge under billions of stars
· The amazing seaport of Spanish Wells
· Meeting wonderful people traveling the world by boat. Each was a sojourner and adventurer in his or her own right. As an interesting aside, all that I spoke with thought George Bush was a madman—at least that was the most frequent descriptor – whether they were from the USA or elsewhere. This surprised me because most boaters are well off (likely Republicans).
---
What I realized about myself
· I realized that it is pretty darn amazing that I could make this trip as I did. It is fraught with peril and looming disaster at every turn. Understanding how to read the charts and the water and to take time to ensure your vessel is ship-shape are paramount. These objectives run counter to our 'get it done as quickly as possible' American (bigger, better, faster) working culture.
· I realized I still love the ocean and boats, and see no reason why I should not continue enjoying them more.
· I realized that there could be many ways of doing this, some of which might cost less than personally owning a boat.
· I realized that I love solitude and aloneness. But, I also enjoy community and meeting new people. I would never want to have just one without the other.
· I realized that I can still be a pretty good mechanic.
· I love getting away from the routine which we dutifully call 'life' in the USA. It is refreshing having only to deal with the forces of nature, and not with the manipulation of negative people and obsolete social customs.
· The more time away from so-called civilization, the less you care about ever returning, the more you feel as though you are really living.
· I am very thankful to be alive.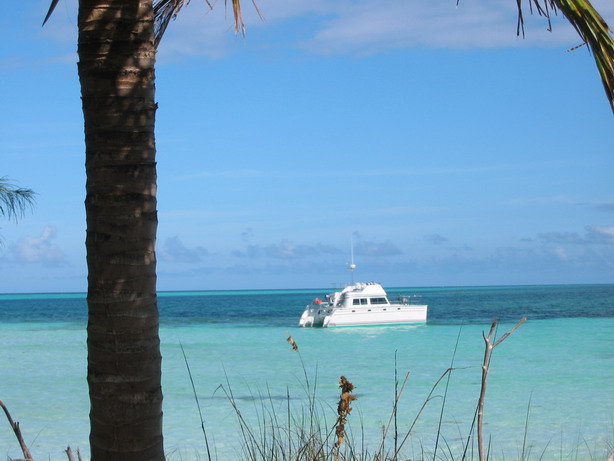 Crystal clear ocean water at a private cove I enjoyed along 'The Devil's Backbone' at the north end of Eleuthera Island. I made this cove my home for a few days.
---
What I realized about my boat
· This boat's chief advantage may be it's greater speed than the average trawler or sailboat. This extends your range for vacations of any duration.
· Shoal draft is a huge advantage as well as the protected underbody of the PDQ. This is a great 'Bahamas Boat.'
· The boat has a lot of windage, so just like a sailboat, you may want to make your daily cruise plan according to the weather report.
· Having the swim step shower is wonderful especially when you're in seclusion.
· Engine room clearance is not as good as it should be.
· This is too big and too nice of a boat for 1 person. I think of my friend Lewis whose wife did not join him on his boat. He needs a boat like this. I do not have a partner who can presently go with me on a long cruise. But, the PDQ34 would be a wonderful boat for a couple.
· A boat needs a woman's touch. I met Chet and Sharon White, PDQ36 owners from Davenport, FL while in Nassau. Their boat was so nicely decorated. I have no interior design skills.
· Having a water maker is utterly essential for cruising the Bahamas. I am very glad I have my unit. Another piece of equipment which would be especially nice for this boat in the Bahamas might be a wind generator.
---
What I realized about cruising the Bahamas
· You can cruise for days and never be in water deeper than 18 feet.
· Prevailing Easterly trade winds blow 15-25 knots. This can be gnarly, and all trip planning should involve weather planning. Don't have a fixed trip plan. Be flexible. One day we had winds gusting to 60 KPH. I desperately wanted out of Nassau, but took the conservative approach and stayed at the dock. If you don't like the direction the wind is blowing, wait a day or two. It likely will change.
· You nearly MUST have a SSB to get weather in the Bahamas.
· Bring spare parts. You'll need them.
· Try to get your cell phone enabled for calls from the Bahamas. DO NOT event attempt to rely on making any US-familiar (MCI, AT&T) credit card calls from the Bahamas. Email is much better for communications.
· When you find a nice place….enjoy it! My friends from Toronto had spent 3 weeks in Spanish Wells and were intending to stay longer. They were learning all the good dive spots, where & how to use the Post Office, where they could get good groceries, cheap or free moorage, internet, etc.
· If you don't have a lot of time, just going the 50 miles to Bimini puts you in the Bahamas, and could be a very fun adventure. You are into the crystal clear water zone in Bimini….but you can still get So. Florida radio stations.
· Cruising the Bahamas can be very inexpensive if you avoid the ports and fancy clubs.
· I DO NOT recommend cruising in the Bahamas by night for several good reasons:
o Their system of bouyage is much less sophisticated and correct, and uses far less lighted buoys.
o Some areas require daytime visibility of water depth and a watch for coral heads.
o Some areas like the Northwest Channel will have boats littered up and down the channel route by night on anchor (in 17 feet of water).
o Any time you enter an unfamiliar harbor your chance for disaster is multiplied at least tenfold at night.
---
Interesting people I met along the way:
· Steve Balkaran, a very handsome 38 year old East Indian who lives in New Jersey. He gave me a tour of the Nassau Yoga Retreat Center. Steve found me trespassing at the Yoga Center and should have had me jailed. Instead, we became friends. He had previously traveled to California on his own and had been to Balboa Island. He was so Americanized I could hardly believe it. I have never heard an E. Indian man talk the way he did............ I instantly liked him and was quite entertained by him. He mentioned that he had wanted to go to Catalina Island. What a shame I was not in Southern California to show this guy the ropes. He got around by bus while he was there. He also mentioned attending a Baptist church in Fountain Valley right next to where I had lived there. Steve is a carpenter by trade. He is a Christian (somewhat rare for an E. Indian) , and leads a very simple life. He is a vegetarian, and has worked for a number of yoga centers and raw food retreat centers. I learned a great deal from Steve. (Update on 3/1/07--Steve has been working for me as my project foreman on a remodel project in Sacramento since December '06. He has done a wonderful job for me).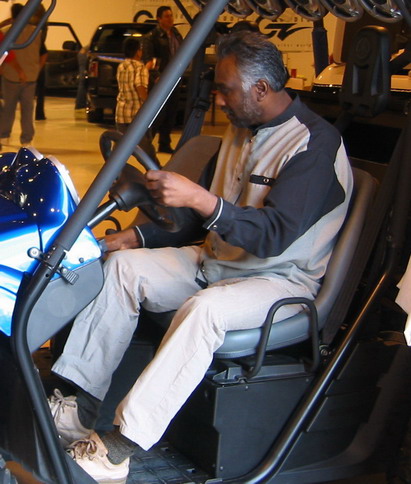 Steve & I attended the Sacramento Auto Show in February 2007
· The Toronto family of 4 mentioned in my narrative.
· The young wife with the disabled husband who were boating despite his disabilities.
· A DINK couple from North Carolina. They had bought a South African 40' catamaran. They planned to sail for 3 years – or until the money ran out. (She thought it would run out sooner….he did not).
· Lewis, the retired teacher I met in Bimini who was sailing aboard a yellow 25 foot catamaran he had built himself. (It was pretty simple - see photo below).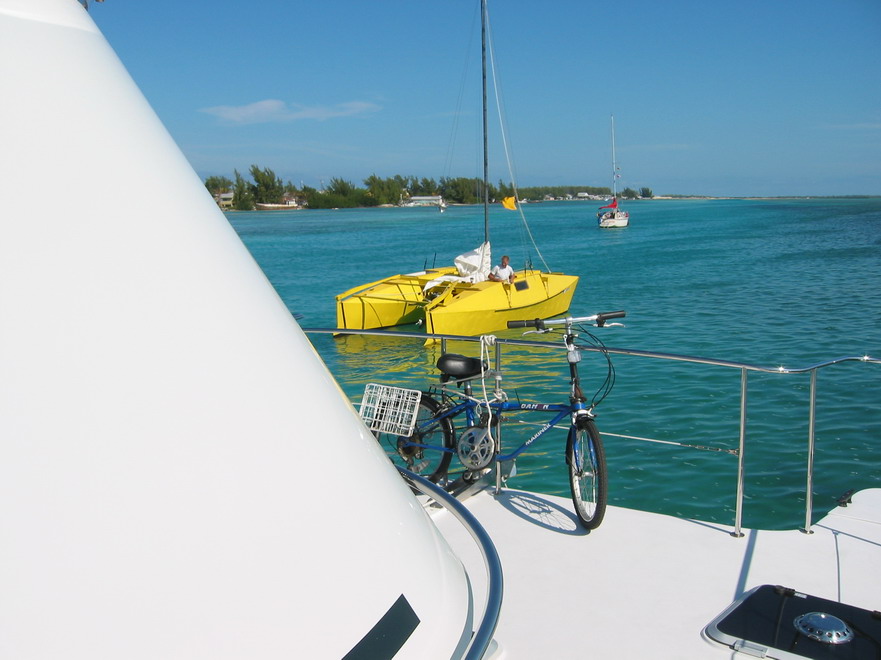 · Nida and Ravi, also E. Indians at the Yoga center. Nida was the first person I spoke to there. Their beautiful Daughter, Lily was also there. Ravi was interested in Raw Foods and wheatgrass. I wish I had had more time to become acquainted with them.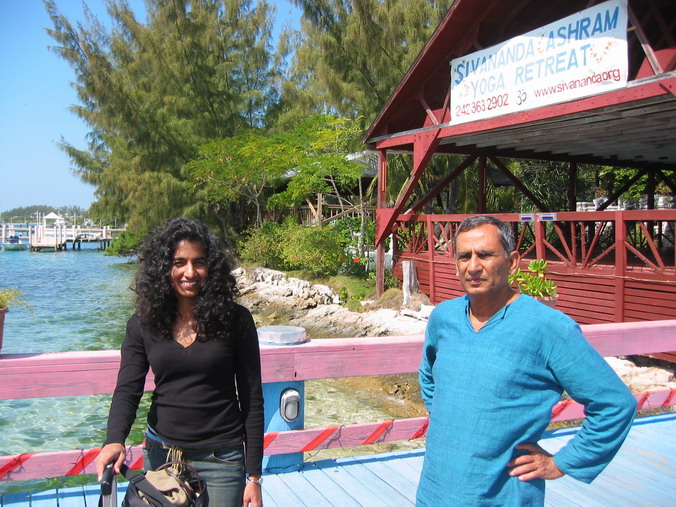 Ravi from Toronto and his beautiful psychiatrist Daughter, Lily. This photo taken on the dock of the Sivinanda Yoga Retreat Center. (They use the dock for transportation from their center on Paradise Island to the main part of Nassau).
· "Mark" a young and handsome Sri-Lanken man working as a chef and going to college in Nassau. He has ambitions of earning a Hotel & Restaurant Management degree. He made me the best meal I had on my entire trip. I made quite a point to go to his Sri-Lanken Restaurant since I have a Sri-Lanken friend in Sacramento, Marina Baxter.
· I met a strikingly beautiful Bahamian woman at the post office at Harbor Island.
· I met a kind elderly Bahamian woman of British descent who ran a boutique in Harbor Island.
· I met a very handsome man named Paul at Spanish Wells who was very kind to me and let me keep my boat at his gas dock for hours. He was from Haiti, but had married a woman from the Bahamas. I gave him a silver coin to take to his 4 year old child.
· I met a Bahamian man on a beach at Andros Island who was the largest grower of grapefruit in the Country. He had 700 acres of trees, and would use over 100 men during his 5 month long harvest season. (Long season because he grew 5 different varieties of grapefruit).
· I met a lovely South African woman named Liz who together with several others were sailing her magnificent boat, Sabatayan around the globe.
· I met Captain John Schultze and his partner, Jennifer Margell from Key West. They were very kind and helpful to me. They were cruising the Bahamas aboard John's Westsail 32, the iconic 1980's 'built like a brick sh*thouse' sailing auxiliary. John is a skipper for a survey crew searching for buried treasure. He has many years of experience as a dive charter skipper. On the enthusiasm of he and Jennifer, I took the extra effort and time to visit the Exumas.
· Laura K Golden is a lovely woman from Ottawa who writes children's books with a purpose to enlighten, mentor, and guide them. She is also an art therapist, Reiki and Yoga practitioner. I met her at the Yoga retreat center.
---
| | | | | | |
| --- | --- | --- | --- | --- | --- |
| Departed | Arrived | Nautical Miles | Time | Fuel? | Date |
| | | | | | (Feb) |
| Fort Lauderdale | Bimini | 62 | 8Hrs | - | 3 |
| Bimini | North Cat Cay | 14 | 4Hrs | - | 5 |
| North Cat Cay | Chub Cay Berry Is. | 85 | 9Hrs | - | 6 |
| Chub Cay Berry Is. | Nassau | 48 | 5Hrs | 77 gallons | 7 |
| Nassau | Eleuthera Is. North | 56 | 8 Hrs | | 10 |
| Harbor Island, (Eluethera) | Spanish Wells (Eleuthera) | 12 | 2 Hrs | | 13 |
| Spanish Wells (Eleuthera) | Nassau | 51 | 5 Hrs | | 16 |
| Nassau | Norman Cay | 47 | 4 Hrs | | 19 |
| Norman Cay | Nassau Via Warderick Wells Cay & Allen Cay | 94 | 8 Hrs | 78 | 21 |
| Nassau (Sivinanda Yoga Retreat Center) | Northwest Channel (Anchored for the Night) Bimini via Andros Island | 103 | 12 Hrs | | 22 |
| Northwest Channel | Ft. Lauderdale via Bimini | 96 | 5 Hrs | | 23 |
Fuel usage disclaimer: Do not use my mileage and fuel consumption figures to draw any real-world assumptions. For much of the trip I was dogged with mechanical issues such as rudders out of alignment, extreme headwinds, and running engines while on the hook to heat water and charge batteries. Therefore, I consumed a great deal more fuel than I might otherwise have done. The manufacturer finds 4gph consumption at 16kts cruise is more or less typical.
---
Chronological Cruise Narrative
Preparation and Departure February 3, 2004

I went to enormous efforts to equip and provision the boat Additionally, I have had the boat brought back to Bristol condition, checking all mechanical systems at Summerfield Boat Works. Cousin Pete was again a big help in suggesting certain spare parts to carry. I know I need more, but I have a pretty good assortment already. The cruising guides say that they know how to improvise throughout the region, even if their own boating does not include such sophisticated technical equipment.
At Summerfield's I had all hose clamps checked, belts tightened, and oil changed. I painted the bottom, changed zincs, and changed back to my original props. On the way to Bimini I did not have the flattest seas and there was some headwind, but I was able to see 3500 rpm out of each engine which gave me nearly 18 knots through the water. Subtracting for the Gulf Stream, I could achieve 15 knots.
Departure from Summerfields: Monday Feb 2, 2004 at 3pm. (Delays due to an ignition switch issue with the starboard engine. The ignition lockout device on the transmission was corroded. I had 'James' from PDQ look at it as he was in the yard. Also met Hugh & Kathy, owners of MV/34 Hull #14 who had just arrived at Summerfields. I wanted to cruise UP the New River a bit further to see where all the mega yachts were docked. It is amazing how they shoe-horn those boats in. Lots of marinas, and I should specifically check on some of them when I get back. The word from my realtor friend, Tom, was that homes with docks are available on the West side of I-95 for 350k. This seems an incredible bargain to me.
I then took some 40 gallons of fuel at Peterson's floating dock. He was an interesting guy, name was Ted? Not sure. Will have to check. Met he & his new wife. We discussed his business a bit. I could see myself getting involved with him. I like the idea of a delivery service.
By the time I was done at Peterson's floating dock, it was 5pm. I asked 'Ted' whether there was anyplace I could just sit on the hook in Ft. Lauderdale and he told me about a small bay that was just perfect. I was tired, and wanted to go to bed early, anticipating a morning departure. Ironically got a call from my amazing friend Todd Huston now in Tulsa, OK, and he flipped me shit for an hour or so which was fun. Called Dedie, but she is very sick, so talked with Chris for a time, who had taken the day off to help with the girls.
I didn't make it to bed all that early….maybe 10pm. And, once up, I wanted to finish some internet business including creating an ad on boats.com of my boat, and updates to my personal website along with Raw Sacramento. With my miserably slow internet connection what might have taken me 10 minutes at home took 1 hour or more. It was very frustrating. But, I wanted to post an ad before the Miami boat show (Feb 12 or so).
Departing Lauderdale for Bimini I probably left the Lauderdale jetties at about 3:30. Tried once I was about 2 miles out to talk to Nextel, Mom, and Audrey. Nextel kept me on hold and then harassed me to death….delaying me. Eventually I lost contact. I was worried about a night landfall in an unknown port (Bimini / Alice town) is known to be tricky, especially by night. So, rather than delay another day, (since I had already been delayed 3-4 days), I took off without the calls I wanted to make.
I was delighted that the weather and sea conditions were good. Once into the gulf stream, the seas were 5', but my course had me at an angle. Still, after 2-3 hours I was getting a little motion sick. I realized I would not make it until well after dark to Bimini. I probably only averaged 10 kts. And had several stops due to various reasons: checking things. I also dismounted the starboard stateroom door, and remounted it. Objective: to keep it latched while under way. It worked. It was a job. Thank God for 3x5" cards. I just extended the lock mechanism by the thickness of 2 cards.
The moonlight was wonderful. Almost no ship traffic. Had the sea lane to myself. Amazed that the depth of the ocean remained so constant. It was like 36.9' for 20+ miles. I started to think my fathometer was broken. Then, as I approached Bimini, I noticed (even in the dark) the tropical clear (blue-green) water. It was great.
Toured around a bit. Tried to find a public anchorage. Found one. Dropped a hook and went to bed at 10:30pm. In the morning I tightened the generator belt on the starboard engine: something I'd asked Summerfield to do.
Hosed the boat down, and straightened up. Am running the water maker for the first time. Seems to do the job.
Not sure where I'll head today. Would like to go ashore & check out Alice town, while I am here. Possibly get to an internet café if there is one.
I will clear customs and get the $150 permission to stay in the Bahamas.
Took a passenger, Lewis, from a nearby boat. He built a 25' catamaran by himself (weighs only 800 lbs). He sleeps on deck. Pretty minimal. He told customs it had a value of $2k. Less than 1/100th my boat's value. Hmmm… But, what the hell, he's here and having fun. He's a retired school teacher living in Texas. When he told his wife he was going sailing she said, "Bye!" (Maybe if he'd had a nicer boat)? To be fair, she could not leave her job at a University. Anyhow, I salute Lewis as very few people build their own boats, much less sail them across the Gulf Stream to the Bahamas.
Caved in after seeing the strong breeze & still not feeling good about deploying the dingy, and rented a slip. This was mostly so I could have good shore access and call Audrey and possibly my Mom, and send out Emails.
While ashore in the afternoon I went through most of Alice town. It is so amazing. Everything is shit. The homes are very tacky like in Tijuana. And, yet, they have the most beautiful beaches I've ever seen. Water is crystal clear. I'm on North Island. It's a strand. Most of the native population are black. I have difficulty understanding them. Many try to be helpful, but I can't understand their English. Oh, well!
Met a gorgeous 30-something lady from Toronto. She is on a 30' boat with her husband. They brought it down by trailer to Ft. Lauderdale, launched and are here having the dream vacation of a lifetime. They love Bimini. Their boat is gas, so they have a limited range. He is in a wheelchair from an accident.
Met another couple in a small 27' sailing auxiliary from New Mexico. Will now go do email and shower. Must be at the phone company (the only internet café by 8:50am. They open at 9:00). Tried like the dickens to buy a tidal chart. Ended up borrowing and copying from one from a dive boat charter skipper.
February 5, 2004 First skin diving effort and on to the Berry IS. Used the Internet in town for 1 hour. $5 from Patelco the local phone company. Not bad. Could have stayed another hour, but am trying to not live my normal life….It amazes me how much time it takes to get ready to cruise. Need to have the boat ship shape and me, too. Anyhow, took a short excursion by bicycle to the South end of the island, saw some ripe coconuts that caught my eye. Realized this might be good fodder if groceries were unavailable. Saw a graveyard and a rusted, wrecked ship from Belize. Also saw the airport for the seaplane. Took some photos. Made some repairs….added coolant to port engine, again tried to tighten alternator belt. Yes, tighter, but needs to be more. Not sure how to do this any more. Left 'Weeches' marina about 2pm, with assistance from my school teacher friend, Lewis, from Houston. Wind blowing at least 20kts. Wanted to dive at a shipwreck site about 5 miles south of Bimini. But, found it so windy, and the bottom so sandy that my anchor kept dragging. Meaning about the time I got ready to get into the water I'd drifted ½ mile from the wreck. Only 10' of water, and was putting out 70 feet of rode. Finally gave up. It was really blowing…probably 30 kts. Had hoped to make it to the Berry Islands. But, instead came to the private Gun Cay area found a buoy on the lee shore and called it good for the night with plan for early departure (for the Berrys).
The trip over to the Berry Islands was fun. Pumped out my holding tank. When I got to Chub Cay, it was late afternoon. There were several other catamarans on the hook in this bay. Most were all swimming around their boats naked, as would be expected. I took a swim and saw several conch crab shells on the sandy bottom.
February 7-9 Nassau Harbor I made the cruise from Gun Cay to Nassau. This run started out rough (slow) and ended up fairly nice. Entry into Nassau harbor was fine. Took on some fuel and got a slip because I wanted to see the city. (Still haven't deployed the dingy).
I did not care for Nassau much--Probably because I never went to 'Paradise Island' where the Gringos are supposed to go. All the casinos and touristy stuff is there, and I suppose it might be quite nice. I see plenty of casinos at Las Vegas, and the expensive 'night life' doesn't really appeal to me.
It was good for me to see much of Nassau. It is paradise in some ways: no sales or income taxes, not to mention the beautiful weather & water. But, in others it is a desolate and desperate land. I grouse about the USA a lot. Well, it was good for me to see another country with another set of problems.
As a brief philosophical aside, we must remember that life is not now, nor has it ever been, nor will it EVER be perfect. All societies have their problems--all.
I try to get around by bicycle wherever I go. I have 2 folding Dahon bikes aboard the boat. Nassau presented absolutely the most bicycle-unfriendly environment I've ever seen. Enormous chuckholes in the streets and sidewalks. No bike lane. No street signs! Imagine getting directions to go up and turn right on Shirley Street, only to find none of the streets have signage! Great! Sidewalks were a blessing to get me away from the speeding car traffic, but they would have huge (1-3' deep sections removed). This was not because they were renovating. This was just how it was. At night someone could kill themselves very easily whether a pedestrian or a biker. I noted that almost no one rode bikes in Nassau. I could see why. Crazy! What a shame when the city is pretty flat and the weather is so nice.
The generator belt of the port engine was loose. I had tried and tried to adjust it with conventional wrenches, but a socket drive was really mandatory. This adjustment might take 10 minutes with the right tools. I found my 3/8" ratchet drive would not reverse directions, so decided I needed to buy a new one. This was Saturday afternoon. I actually found an ACE Hardware, but they were out of ratchet drives (and a lot of other things, and couldn't care less). Hmmm…
They suggested their other store all the way across town. Well, I thanked them and left. Sunday all stores in Nassau were closed. (As are all stores every day after 6 PM). I was moving slow still because my back hurt. Why did it hurt? Well, I am not sure. I went down into the starboard engine room to sort out and clean up the transmission lockout switch which had caused me to be unable to start the engine conventionally. While there, I saw some other things to attend to. Grand total maybe a half hour crunched up in the bilges, and my back was shot. I was moving like a complete cripple. How I rode the bike I'll never know. Ugh! Had another time on the boat when my back was out, and it was very difficult to go through the many motions necessary.
On Monday AM I returned to the nearby Ace hardware to request that they call their other store to see whether they had a 3/8" socket drive in stock before I pedaled several miles over there. After 20 minutes of waiting on hold, we were told no. I asked if there might be anywhere else in Nassau where one could buy a common ratchet drive. They gave me 2 locations. Good. But, the woman at the counter who had been raised and lived her entire life in Nassau, was unable to read or follow a map of her own city. She could not give me any directions. I found this a bit odd. Got directions finally from someone else.
But, not-so-good. Store #1 was also out of them. (Naturally they had ¼ and ½ inch drives, but no 3/8 (which I needed). Store #2 was closed for lunch (1-2pm is common). So I heard of another store. Riding there, there were also out of them. (Do they know about inventory control…..I don't think so)… I rode to yet another store, and they were out. But, they referred to me another store and, bingo, they had one! I had been risking my life in their very bicycle-unfriendly streets for 2 hours. Finally returned to the boat and in 10 minutes, adjusted the belt.
I went to a Restaurant and they would not change or modify the order. I ordered a phone card on Bimini. She charged me $40 for 40 minutes of calls to the USA. When I called the access number there were only 20 minutes on the card. She forgot to double me from the normal rate. Then, carefully following the exact instructions given, I could not make a call. Then, when I called BATELCO (Bahamas Telephone Service) for customer service they had to give me yet another number which I had to dial & pay for myself. They could not transfer me. When I got through the woman almost instantly hung up on me. I called back and within 5 seconds she hung up on me again. I called a 3rd time and she would not answer. It was about 4:30 and I'm guessing that may have been her quitting time. Bahamians don't seem to understand 'customer service' the way we do in the US.
In any case I had a thoroughly frustrating time in Nassau. One good thing was they have no sales tax. (Of course everything costs double to start with). Groceries were 2 to 3 times what I would have paid in California--even higher than Florida. And the selection of produce was horrible. I also bought a chart for the far Bahamas. I had gotten curious about the descriptions I read of Eletheura Island, and wanted to go…..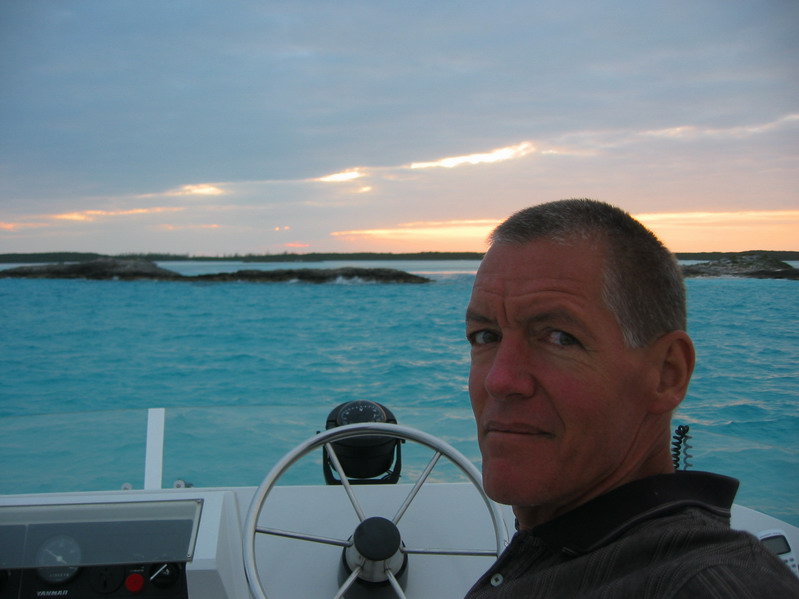 Cruising off Norman Cay, Bahamas
February 10 – Joining the Eletheurian Adventurers – The Island Eletheura was originally settled by Europeans seeking freedom. After ship wrecking on this beautiful island, they formed the first democracy in this hemisphere (and possibly the last peaceful one)? Anyhow, the settlement thrived for a time. Agriculture is very difficult in the limestone which characterizes the Bahamas. I left Nassau at 8am and had the best cruise I've ever had in this boat. The seas were 7' but the wave intervals very far apart. Wind was not too bad. Gradually got sunny and warm. I cut through Spanish Wells, a beautiful harbor at the north end of the island. Then went snorkeling by the reefs north of the Island. The tide was dropping and I was in a dubious area, so moved on along a treacherous route to Harbor Island on the Atlantic (East) facing side of the island which sounds quite beautiful. Along the way I saw an abandoned cove with a private beach and decided to 'claim it for Queen Isbella of Spain.' OK, I claimed it for Mark from Balboa Island. This cove was spectacular. Good protection from wind, waves, and crystal clear waters, white sand beach and coconut and banana trees a short walk from the beach. I spent the rest of the day with no clothes. Pretended I was 'Robinson Crusoe.' Explored the surrounding area a bit.
I am having a problem with the boat's electrical charging system. This more than my already urgent desire to make some other phone calls will force me into Harbor Island, to negotiate again with BATELCO to see whether we can get their calling card working. I will need to call the boat's manufacturer to see whether we can correct the charging problem, which is annoying (It might just be my own ignorance). How I wish I had run more functional tests at the dock. But, like most folks while at the dock, I left the shore power connected.
One piece of equipment aboard the boat which I love is the water maker. It converts seawater to fresh. It can make about 7 gallons per hour. I've been running it most of the time….it gives me pure drinking water, water to shower with, and maybe most importantly, water to hose down the boat with and get the salt spray off. Lastly, it is water to water my flats of wheatgrass which I'm keeping on the flying bridge. I've done well as a farmer this trip!
February 11, 12 – I went to Harbor Island, which was highly touted as a beautiful European style settlement. It was a charming area, to be sure. Prices very high, but I didn't care. I anchored off for free, and finally deployed my dingy, using only oars since my 9 hp outboard is way too heavy for 1 man to lift off it's mount given the location….especially when his back is out. I rented a bike on the island for $12/day and had a good time. I also finally was able to make phone calls. But, they wanted $45/hour for internet! Right! Not this sailor! This was the kind of place I'd love to fly back into one day. Understand you can fly direct to Eleuthera from Ft. Lauderdale. Finally on Feb 13, my back was finally starting to feel better, and I was anxious to see more areas. One of the highlights was laying on an Atlantic shore beach, and swimming out about ½ mile without a lifeguard yelling at me. (There were no lifeguards). This was on their famous 'pink sand beach.'
February 13, 2004 – I left Harbor Island and made it to Spanish Wells. Raft-tied with a similar sized sailboat from Toronto. Nice family. Robert was the Dad, and Thomson the Son, Carol the wifey and Lindsay the Daughter. They were sailing as a family of 4 for a year on a boat much smaller (on the inside) than mine! Wow! Was going to go ashore in Spanish Wells, but have decided to just make hay and hit the trail. One big frustration is being unable to get weather reports. Bahamian radio stations play obituaries for hours on end, but don't give a weather report. The phone number for weather does not work. (Naturally). I wanted to stay in my private cove last night, but did not find it so friendly. There was no wind and the awful 'noseeems' (no-see-em's) small flies were biting me to death. Very uncomfortable. Understand there is a bug repellant which I may add to my grocery list. So, will probably take some fuel, and head out shortly (It's 7:00am Saturday, Valentine's Day).
Marooned at Spanish Wells. I found to my surprise that the autopilot would not work. This is a terrible thing for a single-handling skipper. The error code from the autopilot was 'Drive stop,' the same error I had after my terrible grounding incident at Daytona Beach. This basically says that the rudder cannot be turned. I suspected many things, such as a hydraulic system leak, or damage to a rudder. I read up in my owner's manuals on all subsystems related and also consulted with James at PDQ. Spanish Wells turned out to be a fascinating location. I have never been anywhere like it before in my life.
I met a marine mechanic on Saturday who told me he would help me on Monday Morning. So, I waited and stayed in Spanish Wells, one of the strangest, yet most charming places on earth. Come Monday morning he said he was too busy. I was a little upset with him, but such is life. I decided to leave Spanish Wells and see which way the wind was blowing to decide where to go. As I got underway I noticed the starboard engine overheating at speed. It was fine if I kept it below 2400 rpm. This was terrible. Now I had 2 mechanical problems. Well, I looked at the charts and realized that the wind was blowing almost towards New Providence Island (where Nassau is). I reasoned I could get mechanical help there most easily of any place. So back to Nassau—a city which I didn't like. The trip was terrible as I had to stay glued to the helm at all times. Several times I parked the boat. Once I dove under the boat and felt the water intakes for both engines while they were at idle. They seemed both to intake with equal suction. However, the overheating problem was occurring at a higher RPM.
Back at Nassau Harbor for repairs. I took a berth at Nassau Yacht Haven, not far from where I stayed before. It was a full service marina with laundry and good bathrooms, at the same price. I hoped to only be there 1 or 2 nights, but severe winds came up and I had to stay 3 nights. I had really wanted to see the Exumas, but this mechanical delay in Nassau put that portion of my cruise in jeopardy, as I had hoped to be back to Ft. Lauderdale by Saturday Feb 20. Was on the phone with PDQ regarding my mechanical issues. They did finally help me resolve the autopilot problem…just a loose wire! Ugh! Thank God, as that was repaired at no additional expense. The engine overheating was another problem. PDQ suggested I change out the seawater impeller which I did at a cost of $160 plus parts. Sadly, that did not help. Ugh! I finally fixed it myself. It was caused by some very stringy seaweed which had gotten stuck in the through hull valve. With both mechanical issues resolved, I was pumped to get the heck out of Nassau. However, a weather report of high winds kept me in port. I rode down to their Cable Beach and Arawak Cay areas--Both as underwhelming as the rest of Nassau, and a life-threatening bicycle journey. I stopped at 'Plastic Island.' (Paradise Island—the vacation refuge for rich Americans who don't want to be dirtied with the real Nassau). Found little there of any interest. Did have lunch one day at the Sri Lanken Restaurant of a guy I had met a week earlier at a Laundromat. The food was the only good food I had at any restaurant in Nassau. (I did break down at Harbor Island and have fried plantains--a treat my Spanish teacher from Cuba introduced me to 30+ years ago). The Sri Lanken food was terrific – delicious, good portions and cheap. Got back in touch with some folks over the internet.
Off to the Exumas. I only spent 2 nights in the Exumas and both were at Norman Key. One at the common anchorage near the plane wreck and McDuff's (at the south end of the cay). I toured McDuffs. It was cute. They apparently make quite a dinner for up to 30 people, but you must make a reservation each day by noon. The cay was once a drug runner's location, and an airstrip on the island was used by this enterprising man who doubtless supported the DNC and /or the Republican national convention with his drug profits. On my second night I improvised (due to the shallow draft of my boat, and took a beautiful abandoned cove near a dive spot recommended to me by my friends from Key West, John and Jennifer. I enjoyed these private locations so much. No muss, no fuss, no noisy neighbors. I could go naked all day and lay on the fly bridge and gaze at the stars by night. When I would wake up, I would not even get dressed. I'd just go swim for awhile. Then, climb up the swim ladder and shower with my swim step shower…one of the nicer features of my boat.
Back to Nassau. (Why do I end up in this city I don't like so often)? Well, they were on my way. They had cheap (as the Bahamas define it) diesel, and I know my way around (having nearly been killed in traffic so often here). I nearly proceeded at night to Andros Island or back to Chub Cay in the Berry Islands. But, took the more conservative option and anchored near the Yoga retreat. I took the dingy ashore there and met some nice folks especially a 'Steve,' an East Indian from New Jersey. He cracked me up. He had been to Balboa Island. He mentioned wanting to go to Catalina Island, but had been unable.
The boat finally seems to be running pretty well. And, it should! I have worked hard and spent a lot of money ensuring it is in top condition.
On Sunday morning (Feb 22) I made it to the Yoga retreat for a 2 hour morning yoga class. It was wonderful. I also had a late breakfast with my new friends there. I met many kind people there. These yoga centers have very inexpensive, healthy vacations to offer in beautiful places. Read about it here.
By noon I headed west from Nassau harbor's west entrance. I headed for North Andros Island. I stopped briefly at Andros and met the man who is the largest grapefruit grower in the Bahamas on a 700 acre orchard. He was a humble young black Bahamian.
I nicked some coral heads in the reefs at North Andros. Fortunately the PDQ is designed in such a way as to minimize any damage. I scratched some paint off the bottom, but that appears to be the only damage.
I thought of cruising all the way to Bimini, but after passing a number of boats already anchored and gone to bed for the night in the northwest channel, I joined the party.
I was up at 6:30 on February 23 and made it to Bimini by 10. I was going to stop in Bimini, but simply took a quick dive under the boat to survey any damage from my coral head run in the day before. I arrived at Ft. Lauderdale at 2pm. I tried to find customs to do the treasury protocol, but could not. There were 3 or 4 different police agencies enjoying their new sport boats at the harbor entrance...Broward Sheriff, Homeland Security, and USCG among them. I asked each where the customs dock was and none of them knew. (According to the post-9/11 entry procedures I was supposed to be inspected by customs). Oh, well.
Bahamas cruise photo highlights
---
Bahamas cruise photo highlights

Mark Blackburn