With all the statements made by network bozos about the incredible shame of seeing for 3 seconds a woman's breast, you would have thought we had just murdered another 1.25 million Iraqi civilians as we did during the 1990s. This latter act, or the genocide of 2 million Vietnamese directly attributable to the USA's insane war in the 1960s, are things about which we need to feel ASHAMED.
I am very sorry that I do not find a woman's breast to be an obscenity. In fact, like 99.9% of breast-deprived American men, I find them lovely, and enjoy seeing them. If men did not feel this way, there would not have been a Playboy magazine or business empire.
America has become a very strange nation. We consider it proper to make brutal preemptive attacks against defenseless 3rd world nations in the Mid-east. Yet, we consider it obscene when a woman's breast is visible!
For the sake of discussion, may I review the facts of the human animal. We are mammals. The females have breasts, and have since the beginning of time. These breasts used to be very visible and functional back when we were a healthy species (just a few generations ago). In fact, one of the reasons we are now much less healthy is that Mothers do not use the breasts God gave them for their primary and obvious purpose (feeding babies and young children).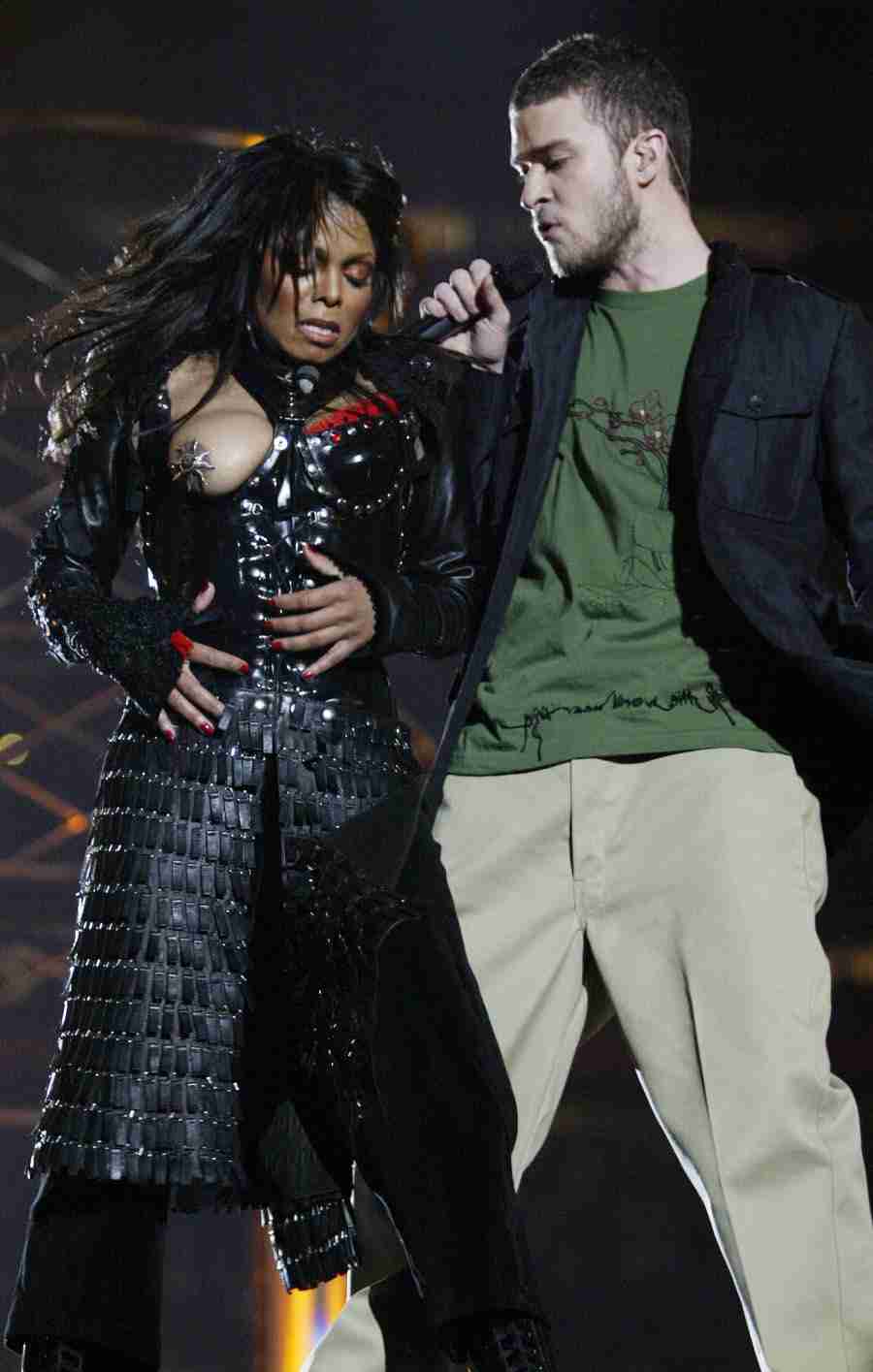 The 'Act of Infamy' (is this obscene)?
Did God do something obscene in giving women breasts? Or, did he know what he was doing putting humans among the class mammalia? I worry that many of my fine Christian Brothers and Sisters believe that God sinned when he gave women breasts and that to look at a breast is to commit the unpardonable sin. Indeed, this is how the network bozos sound. How can we be so ashamed of or horrified by our own bodies? What is this Puritan insanity and revulsion/embarrassment over breasts? Honestly, women have had them since the beginning of time. There is nothing inherently evil about breasts. Nor is there any evil which befalls people when they see breasts. Up until as recently as 3 generations ago every single person on earth not only saw breasts but sucked on them, too. Yet, a visitor from another planet would conclude by the morally bankrupt Puritanism of America that it would now defile a man to see a breast.
As I write this I am in South Florida, headed to the Bahamas. At South Beach in Miami Beach many, if not most of the women sun themselves topless. No one is defiled. No one is hurt. Indeed, the men enjoy the beach. The women enjoy the beach. It's a comfortable, more human place. Tanning more of the body is healthier (see article).
As the expression goes, 90% of boys in America read Playboy. The other 10% are liars. When I was a young boy I used to look at Playboy magazines. The most popular kids on the block were the guys who knew where there Father's stash of playboy magazines were. I have been encouraged to repent for this exposure to wicked breasts by several churchy friends. But honestly, In NO WAY can I perceive any harm which has ever resulted to me from seeing a woman's breasts. Honest, folks, it has never harmed me, and it will never harm anyone else to see a human breast! I'm NOT kidding! Why all the fuss over this silly Superbowl act?
Sadly, now, about the only discussion or written references made to breasts have to do with breast cancer. Puritan Americans have removed almost all enjoyment of breasts and made them something biologically evil as well. Maybe it was America's Puritan disparagement and metastasizing of breasts which has caused the increase in physical cancers?
Americans define obscenity in such strange ways. I find war obscene. I find destruction of individual liberty obscene. I find theft (such as taxation) obscene. I do not find breasts obscene.
Friends, we are human beings. Our females have breasts. It's OK. God planned it that way. Enjoy them while you can!
-Mark

Here is the real obsenity!
---
I will conclude this article with another having to do with a great deal of information about breasts, and how to avoid breast cancer. This article is written by my friend and mentor, Dr. Bernarr Zovluck.
---
BREAST CANCER-HOW TO HELP HEAL IT WITHOUT DRUGS, SURGERY & TREATMENTS
By Dr. Bernarr, D.C., D.D.

YOUR BODY DOES THE RIGHT THING WHEN YOU HAVE BREAST CANCER
Our bodies always do the right thing. We are passengers on the train of life,
not the conductors. Since life began on earth, our God within, our inherent
intelligence within each cell of our bodies, has learned to make the optimum
adaptation and resolution, to any problem to which our bodies are subjected.
Whatever stresses our bodies presently have, our ancestors have successfully
learned how to successfully cope with such, previously. It is already built
into our genes, our chromosomes and our DNA. Your inherent intelligence, if
it chooses to produce breast cancer, it does so to protect you. This breast
cancer or whatever your pathology or symptomology, helps you survive,
despite your self-destructive lifestyle, thinking and spirituality. Your
breast cancer is for your protective benefit.
Your breast cancer will spontaneously heal, when the cause and need for your
inherent intelligence, your God within, to produce breast cancer, no longer
exists.
WHO DEVELOPS BREAST CANCER
One in eight American women develop breast cancer, a rate four times higher
than for Asian women. Breast cancer is the most common form of cancer among
women. Breast cancer is second only to lung cancer as a cause of cancer
death among women. Breast cancer is rarely seen before age 30, and the
incidence rises rapidly after menopause. Breast cancer in men is 1% of
women's chances of developing breast cancer. Women who take oral
contraceptives for many years have a tendency to develop breast cancer.
SYMPTOMS & SIGNS OF BREAST CANCER
It may cause nipple retraction, discharge from the nipple, bleeding from the
nipple, distorted areola, lump or thickening of the breast, dimpling or
puckering of the skin, change in breast shape, attachment of the mass to
surrounding tissues, swelling, redness, heat, itching, burning, erosion,
induration and pain in the breast, scaly skin on or around the nipple, a firm
thickening, not noted in the contralateral breast, presence of satellite
nodules or ulcers in the skin, enlarged axillary or subclavicular lymph
nodes, edema of the arm, and change in skin color or texture, orange peel
appearance to the skin of the breast (Paget's disease of the breast).
WHAT IS THE FEMALE BREAST?
The female breast is divided into 15 or 20 lobes of glandular tissue divided
by connective tissue bands and are embedded in superficial fascia.
anatomically, they are anterior to the pectoralis muscles and extend from the
2nd to the 6th ribs and from the sternum into the axilla.
The breasts will enlarge during pregnancy and after delivery and tend to
atrophy when not exercised. The left breast is usually a little larger than
the right. The pigmented circle around the nipple is known as the areola. The
breast supports a nipple, in turn surrounded by the areola, and this is
usually pink in the woman who has borne no children, or in the virgin, but
turns dark after impregnation and may also do so with age. The nipple tends
to turn up and outward in the well toned breast but tends to turn in and
downward in the poor toned breast. The poor toned breast will hang loosely
and heavily, sometimes as low as the abdomen, with the nipple at the lowest
point of the mass. The nipple or papilla undergoes a stiffening or erection
when stimulated by breast feeding, by sexual activity and by cold.
The breasts increase in size at puberty under the influence of increased
hormones produced, especially estrogens and progesterones. Their increase in
size and the number of glands are mainly under the influence of pituitary
hormones and estrogens and progesterone. Lactation depends on concerted
action of progesterone, estrogen, prolactin and somatotropin.
There is a close relationship between the uterus and the these breasts. When
a newborn child is put to the breast, uterine contractions occur. By
prolonging lactation, women prolong the time of amenorrhea (absence of
menses).
7 STAGES IN THE DEVELOPMENT OF CANCER
1. ENERVATION-Physical, mental and spiritual stresses overwhelm and exhaust
the vital energy of the living body so that the inherent intelligence, the
God within, cannot homeostatically function systemically.
2. TOXEMIA-The inherent intelligence in the systemic bodily cells because it
is exhausted, is unable to adequately excrete metabolic waste materials
through the various excretory organs.
The blood and systemic bodily cells become overloaded with uneliminated toxic
materials from dysfunctional metabolism.
3. IRRITATION-The systemic bodily cells, to homeostaticaly survive, unload
their respective toxicity at various points in the body. The inherent
intelligence, produces symptoms upon which we should concentrate, meditate
and feel until, we are asymptomatic.
4. INFLAMMATION-The sick area of the body always feels tense, rigid, taut,
stiff, tight and resistant to touch. The sick part of the body always feels
tense and rigid to palpation (examination by touch) because the healing
intelligence of the body, wants that sick part to physiologically rest and
remain immobile. The tense and rigid area of the body is spastic muscle. (A
spasm is an involuntary and abnormal muscular contraction.) The only parts of
our bodies of which we have volitional control are our skeletal (striated)
muscles, our skeletal muscles are extensions of our brain. In every
inflammation in the body, the healing intelligence of the body causes painful
and discomforting symptoms in that sick part to prevent the sick person,
foolishly, from trying to move the sick part. The healing intelligence of the
body is trying to, physiologically, rest that part.
The pain is coming from the nerves in the spastic muscle. Muscles and nerves
when they have a normal degree of vigor and tension are in "tone". Nerves
control muscles. When the healing intelligence of the body wants to
physiologically rest some sick part of the body, it overstimulates the nerves
connected to the sick body part. These overstimulated nerves cause the
skeletal muscles surrounding that sick body part to go into protective spasm
and therefore, immobilize that sick bodily part. It is impossible to have any
dysfunction or pathology in the body without there also being an existent,
protective muscle spasm over, adjacent to and surrounding the dysfunctional
bodily part.
5. ULCERATION-The inherent intelligence in the bodily cells, systemically, to
homeostatically detoxify and survive, creates ulcers as outlets for its
metabolic wastes. An ulcer is a break in the skin or mucous membranes, with
loss of surface tissue disintegration.
6. INDURATION-This a process of hardening by which the inherent intelligence,
in the bodily cells, systemically, to homeostatically survive, form tumors
via tough fibrotic scar tissue, to prevent the toxins from intoxicating
contiguous tissues. This is to encapsulate the toxic metabolic materials
within the respective bodily cells. This contains and quarantines the toxic
wastes within the dysfunctional bodily cells, seals off the bodily cells and
protectively prevents these metabolic wastes from intoxicating other bodily
parts.
7. CANCER-This is the final stage of this disease. The inherent intelligence
in the bodily cells systemically, is excessively stressed, is excessively
enervated and is unable to excrete its metabolic wastes.
3 BASIC TYPES OR CLASSIFICATIONS OF CANCER
CARCINOMA: Carcinomas comprise 90% of all cancers. These malignant tumors
arise from covering membranes (skin, lungs, bladder, various ducts, etc.).
These are epithelial malignant tumors.
SARCOMA: Sarcomas comprise 5% of all malignancies and arise from supportive
tissues such as bone, joint tissues, muscle, fat and cartilage.
MISCELLANEOUS CANCERS: These malignancies complete the remaining 5% of all
malignancies and include highly individualized special cell malignancies such
as: the leukemias, lymphomas, brain cancers and other central nervous system
malignant tumors.
WHY YOU HAVE BREAST CANCER
Normally your four organs of detoxification, your kidneys, your large
intestines, your respiratory tract and your skin, detoxify your body, when
you are intoxicated. When your bodily intoxication is greater than your body
can presently detoxify, your toxins are retained in a weak area of your body.
The breast cancer is an attempt of your God within you, to temporarily
encapsulate your toxins in your body, until you choose to correct your
self-destructive lifestyle, thinking and spirituality.
BREAST CANCER PROTECTS YOU
Breast cancer, like all your bodily dysfunctions, is a protective reaction of
your God within your body, your inherent intelligence of your body, to
maintain a homeostasis of your body. This breast cancer protective reaction,
transpires in you, to help you optimumly survive, despite your spiritual
dysfunction, irrational thinking and self-destructive lifestyle.
NEVER TREAT OR SUPPRESS YOUR BREAST CANCER
To assault you when you have breast cancer with any destructive, suppressive,
interfering treatment, can only make your health worse and cannot possibly
help heal you! Your cancer or whatever is your pathology, is always
controlled cell growth.
METASTASIS OF BREAST CANCER DOES NOT HARM YOU
Metastasis is the transfer of a disease-producing agency from the site of
your disease to another part of your body. Metastasis of breast cancer is
also similarly, a protective reaction of your God within your body, your
inherent intelligence of your body, to maintain homeostasis of your body.
When your cancer exacerbates in a particular part of your body, your inherent
intelligence of your body, reacts and protectively spreads your toxicity to
our other weak bodily parts, for life saving help.
TO HELP HEAL YOUR BREAST CANCER, YOU MUST ACUTELY REACT
To get well from your breast cancer or any other chronic diseases, you must
make your chronic diseases, acute diseases, again. All your chronic diseases
are acute diseases that have been suppressed. All your acute diseases are
self-limited.
TO HELP HEAL YOUR BREAST CANCER, YOU MUST CHANGE YOUR LIFESTYLE, MENTALITY &
SPIRITUALITY
To get well from your breast cancer and all your other diseases, you must
correct your spiritual life, mental thinking and lifestyle!
AVOID TREATING YOUR BREAST SYMPTOMS. TO HELP HEAL, REMOVE CAUSES OF YOUR
BREAST CANCER
To help heal your breast cancer, you must remove the causes of your breast
cancer. Just to treat your breast cancer symptoms does not permanently help
heal you. In treating your breast cancer symptoms, you are just treating your
breast cancer effects, not your breast cancer causes. Your breast cancer
symptoms exist for your protective benefit. Your breast cancer symptoms are
your healing and detoxifying reactions of your inherent intelligence, your
God within. Your breast cancer symptoms are always controlled by your
inherent intelligence. This is why your breast cancer symptoms should never
be destroyed, interfered with and suppressed. The destruction, interference,
and suppression of your breast cancer symptoms, prevents your inherent
protective bodily defenses from helping heal you. If your inherent
intelligence cannot help heal your breast cancer distresses, nothing and
nobody else can. No destructive, interfering and suppressive therapy of any
kind, can help heal your breast cancer, but only your inherent intelligence
can help heal your breast cancer.
EVERY WOMAN WHO HAS BREAST CANCER, SHOULD WATER FAST,
IF YOU CAN, TO HELP HEAL IMMEDIATELY AND PERMANENTLY
Every woman who has breast cancer, should be given a long water fast as the
surest and most rapid means of freeing the body of toxemia. A water fast is
necessary to restore vital energy and nervous poise to you with your breast
cancer. Water fasting usually leads to cessation of your breast cancer
symptoms, permanently.
EAT A BENEFICIAL DIET TO HELP HEAL YOUR BREAST CANCER
Eat as constructive and beneficial a diet as is possible, to help heal your
breast cancer. Eat only natural foods, that you would eat in the wild. Eat
only fresh, unprocessed raw vegan foods that are palatable to you and that
agree with you, with all the essential minerals and essential nutrients.
Every bit of cooking destroys vitamins, enzymes, minerals, nucleic acids,
chlorophyl and damages fats, making them indigestible. The fatty matter
becomes a local irritant.
WHY YOU MUST EXERCISE YOUR CHEST MUSCLES TO HELP HEAL YOUR BREAST CANCER
All women who have breast cancer, have poor muscle tone of their chest
(pectoral) muscles and also have poor tone of their breasts. The pectoral
muscles are the muscles which lie underneath the breasts. When properly
toned, the pectorals help to maintain breast shape and firmness. By
performing chest exercises, any woman can obtain a stronger and firmer set of
pectorals and breasts.
In the September 1994 issue of The Journal of the National Cancer Institute,
it was found that regular exercise can reduce a woman's risk of developing
premenopausal cancer by as much as 60 percent.
Hippocrates, Greek physician and the father of medicine, 460-377 B.C., said,
"All parts of the body which have a function, if used in moderation and
exercised, become thereby healthy and well developed and age slowly, but if
unused and left idle, they become liable to disease, defective and age
quickly." Galen, Greek physician and writer, 130-200 A.D., wrote that he
successfully treated every disease known to mankind at that time, solely by
prescribing a specific exercise for each patient with a particular disease.
One should do exercises that are progressively stressful or resistant. When
exercising, one's muscles should be contracted to their fullest extent and
joints should be carried through their full range of motion. A short period
of intense, vigorous exercise for one, is better than a long period of mild
exercise. One should do exercises that are comfortable and safe, that one
enjoys, that suits one's lifestyle, at a convenient facility, at a convenient
time of day or night, as frequently as possible, as regularly as possible and
that one will follow throughout one's life.
WHY YOU MUST EXPOSE YOUR NUDE BREASTS TO AIR & SUN TO HELP HEAL YOUR BREAST
CANCER
The ancient Greeks, Romans, Egyptians, Assyrians, Arabians, Babylonians,
Cretans, Aztecs, Chinese, Japanese, Indians and the inhabitants of most of
the other ancient nations, derived their superb health from their contact
with the fresh air and rays of the sun and thereby healed their ailments.
Living beings are by nature nude animals, and are made to live in the open
air and sun. The sun provides the basis for all life on earth. The sun is the
source of energy for all plants, and indirectly for all animals. Sunlight
purifies water, air and the surface of all objects. Without fresh air and
sunshine, there would be no life possible on earth. Airbathing and sunbathing
nude, will help heal breast cancer and almost every disease.
BRAS CAN HELP CAUSE BREAST CANCER
Why can wearing a brassiere cause breast cancer? Singer and Grismaijer in
their book "Dressed to Kill, The Link Between Breast cancer and Bras" (New
York: Avery Publishing Group, 1995), wrote that bras alter the breasts'
anatomy and physiology, particularly effecting the lymphatic circulation
causing lymphatic constriction. The authors are medical anthropologists. The
authors contend that when the breast is chronically restricted by a bra, the
lymph system that surrounds it, may become blocked-preventing it from
carrying out its function of removing toxins from the area and thus making
breast cancer, more likely.
HOW TO LEARN TO LISTEN TO YOUR BODY WHEN YOU HAVE BREAST CANCER
Your inherent intelligence is always talking to you. You must learn to listen
and do what your inherent intelligence is telling you to do with your breast
cancer symptoms. To listen better to your inherent intelligence, you can
concentrate best if you keep your eyes closed, every moment that is possible,
of your 24 hours, daily.
WHY, TO GET WELL, YOU MUST GET SICKER WITH YOUR BREAST CANCER
If you are sick with breast cancer for a long time, to recover your health,
you must reawaken and re-express old breast cancer pains or breast cancer
symptoms, you had on the way from your good health to your breast cancer.
This is part of your breast cancer healing process. This is the course of
restoration from breast cancer, back to health. All breast cancers are
self-limited. If your breast cancer is suppressed by whatever means, you
either accommodate to it or you die. Your initial pre-breast cancer, acute,
lasts minutes, hours, days or weeks. Your suppressed pre-breast cancer
becomes chronic, i.e., lasts months, years or a lifetime. To get well from
your breast cancer, you must transform your breast cancer into your acute
pre-breast cancer again. To get well from your breast cancer, you must
develop your acute pre-breast cancer symptoms again. This is called
"retracing". To help heal your breast cancer, you may exhibit pre-breast
cancer symptoms which you have not manifested for months or even years.
EVERY PATHOLOGY PRODUCES A CONCOMITANT SYMPTOMATOLOGY
I discovered that every pathology and physiological dysfunction produces a
concomitant symptomatology in all human beings. Nobody else, other than I,
has ever had previously the insight to write about this inherent self-healing
mechanism.
This means, that your inherent intelligence, your God within, is always
talking to you. If you listen to it and obey it, you will always have good
health. So whenever you are ill, your inherent intelligence produces symptoms
upon which you should concentrate, meditate on, pay attention to and feel,
until you are asymptomatic, i.e., until your symptoms completely and
permanently disappear. If and when you will do this, your illness and the
cause of your illness, will always help heal completely and permanently.
HOW TO MEDITATE PROPERLY TO HELP HEAL YOUR BREAST CANCER
You should lie down, keep your body inactive, keep your eyes closed and
concentrate, meditate, think on, keep your mind on your breast cancer
symptoms and breast cancer discomforts, until your breast cancer symptoms and
breast cancer distresses completely disappear. This is "feeling meditation".
HOW TO WATER FAST CORRECTLY TO HELP HEAL YOUR BREAST CANCER
When you water fast to help heal your breast cancer, you should keep your
eyes closed, every day that you water fast. A water fast is a physiological
rest and therefore to conserve vital energy and optimumly help heal yourself,
you should always do a water fast lying down, with your eyes constantly
closed, no talking, and only sleeping and/or concentrating, meditating on,
paying attention to and feel your breast cancer symptoms until you are
asymptomatic, i.e., until you no longer have any breast cancer symptoms.
HOW TO STAY WELL ALWAYS, ONCE YOUR BREAST CANCER IS HEALED
Once you are restored to good health from your breast cancer, you should be
taught how to keep yourself permanently breast cancer symptom free, by a
program that stresses eating natural, fresh, raw, unprocessed vegan foods,
with all of the essential minerals and essential nutrients that are palatable
to you and that agree with you, pure air, good water, intense, progressive
resistance exercise, air bathing and sunbathing, adequate sleep, feeling
meditation, conservation of sexual energy and appropriate observation of the
other needs of life. You should never do anything that does not improve your
physicality, mentality and spirituality. You should never do anything
self-destructive, from which you must recover.
HOW WE CAN HELP YOU HEAL YOUR BREAST CANCER VIA THE INTERNET
With our new way to help heal women with breast cancer, we have helped heal
many cases of "hopeless" breast cancer, in women, world-wide, via the
Internet. Contact us NOW and we will help you heal your breast cancer via the
Internet.
Dr. Bernarr, D.C., D.D. God Healing, Inc. Natural Hygiene Society, Inc.
P.O. Box 1523 Santa Monica California 90406 USA
Telephone: 310-396-2914
Web Site: http://www.healself.org E-mail: drbernarr@aol.com
P.S...CONTACT US & WE WILL PERSONALLY TEACH YOU HOW TO SELF-HEAL

We will teach you how to have this oneness with your inherent intelligence,
your God within, how to properly water fast, how to eat properly, how to
exercise properly, how to concentrate, feel and meditate properly on the
cause of your health problems and your health symptoms, how to properly hand
touch yourself and other living beings, humans, animals, plants and
environments, so as to help heal yourself and help heal other human beings,
animals, plants and environments, how to airbathe and sunbathe properly, how
to properly do things with your physical lifestyle, mentality and
spirituality and how to help break your bad habits, so as to successfully
heal yourself, other human beings, animals, plants and environments, of any
kind of health problem, immediately, completely and permanently.