Mark S. Blackburn, M.B.A.
---
Wedding of Todd Huft and Rebecca Lynn Oestmann July 7, 2002 Denver, Colorado
This was one of the highlights of 2002 for me. What a joy to unite with my Seiersen cousins in Denver for Todd & Rebecca's wedding. The ceremony as I recall was performed by Rebecca's Uncle, a minister. It was folksy and familiar. We all wish them the very best! I had a great time seeing My Cousin Sandy & her Husband Larry, who I have seen only once or twice since they moved to Colorado 30 years ago. I also was spoiled by Pete and Carol Seiersen and enjoyed a couple days in Aspen at their beautiful home. Pete was of great assistance to me in helping consider equipment for my boat (which at that time was just a few months from delivery). Can you believe it, after coming all this way for the wedding, I never got a decent shot of the Bride and Groom! If anybody has a good digitized photo of the couple, please forward it on to me so I can post it prominently here!
(Click on any photo to enlarge)

A Family Reception Dinner (Dick, Chad, Betty, & Sandy)

After Dinner (Betty, Dick, Gale, Carla)

Amber & her Beau on a beautiful evening

Amber & her boyfriend

Heidi gets a gift

Betty, Dick, and Hans

The 'youngsters'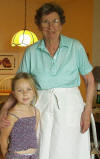 Heidi & Great GrandMother Betty

L to R Carla, Hans (way in back), Rick, Dick, Pete, Carol, Gale, Betty

L to R Hans, Dick, Carol, Pete, Gale

Cousin Kelley, Mark, Larry (Betty & Gale in back)

Tired from dancing?
---
Side trip to Aspen
Pete and Carol Seiersen very kindly invited me up to stay with them in Aspen. I had a wonderful time there and was really glad I had a chance to go.
I like this Colorado territory! (On the drive to Pete Seiersen's in Aspen)


Pete Seiersen & I on a bike ride in Aspen

Pete and Carol's lovely home

Suitably enough it's in Aspens
---
The Photos of My 2000 Mile Cruise
Photos of Mark's GrandDaughter Makayla at Christmas 2001
Makayla's Debut at Hotel del Coronado
Sailing Trip from Ensenada 2002
---