Photo Gallery of the Maiden Cruise of the Canistel -- 2000 miles in 28 days -- Toronto to Miami
Page 1 Departure to Oswego, New York < Previous > < Next > Cruise Report Mark's Homepage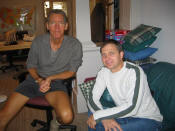 My good friend Kim Berry sees me off. He and Tess brought me a bottle of rum!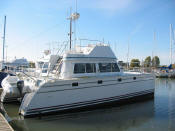 My first view of my new boat.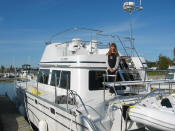 First mate Ida Philippi immediately sizes up the situation and begins to pray.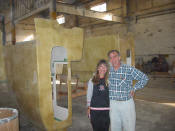 Ida and I take a PDQ factory tour. She finds another Italian!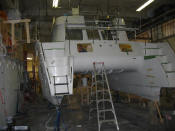 An MV/32 under construction.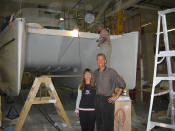 Teambuilding at the PDQ Factory.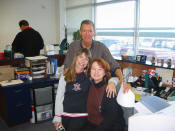 MaryAnn, Ginger, & Gilligan. (Ida, Sherrie & Mark).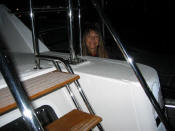 A cold departure at 3:00am (notice ice forming)!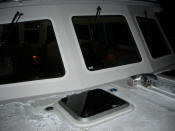 A cold evening for a cruise across Lake Ontario.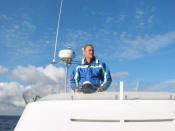 A beautiful November 1 morning.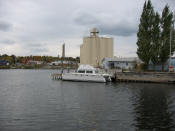 Awaiting a customs inspection in Oswego, NY, our USA point of entry.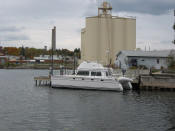 After getting permission to enter the USA, we will enter the Oswego Canal on our way to the Erie Canal.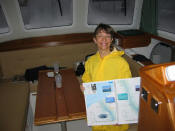 Just get us to warmer territory, Skipper!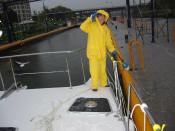 All Hail broke loose at our very first set of locks!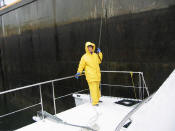 What a perfect crew member!
< Previous > < Next >
This is Page 1 Departure to Oswego, NY
Page 2 Oswego, NY to Amsterdam, NY
Page 3 Schenectady, NY to West Point
Page 4 New York Harbor
Page 5 New Jersey & Delaware
Page 6 Annapolis & Washington D.C.
Page 7 Strange Sights of the Chesapeake Bay
Page 8 Norfolk, VA & the Intracoastal Waterway
Page 9 North Carolina
Page 10 Charleston, SC to Miami Florida