Photo Gallery of the Maiden Cruise of the Canistel -- 2000 miles in 28 days -- Toronto to Miami
Page 2 Oswego, NY to Amsterdam, NY <Previous> <Next> Cruise Report Mark's Homepage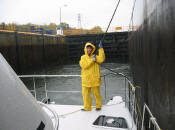 Ida keeps us secure against the lock wall while they flood the lock chamber raising us some 20 feet.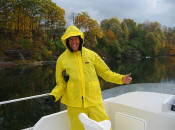 We've travelled through snow, sleet, and hail. But, hey, life is an adventure!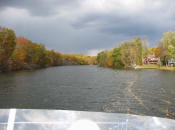 The fall colors were just beautiful!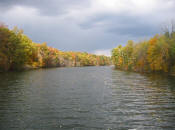 I've never cruised down such a beautiful canal!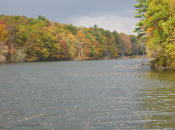 Near Minetto, New York, November 2, 2002.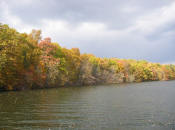 Breathtaking color!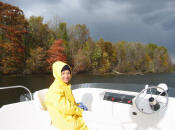 First Mate Ida has survived some nasty storms!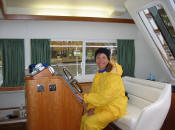 And, she is getting her navigational skills honed. Here she's mastering use of the autopilot.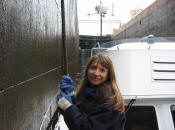 Oh, so sorry, Ida. Did I mention there will be 30 different locks we have to go through? This one dropped us 40 feet!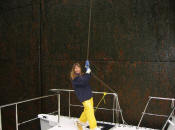 Hold tight, Ida!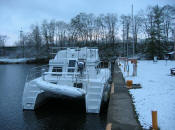 St. Johnsville, NY has a great public dock. This town is so far 'off the grid' no one had ever seen real Californians before!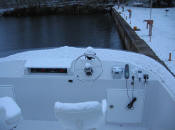 Try to visit during a wamer part of the year!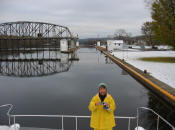 Entering a Lock channel which will drop us to a lower level.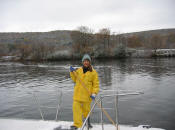 First Mates need to 'swab the deck,' and Ida is no exception, although normally you won't need to sweep snow off the deck.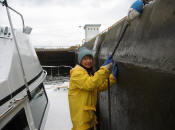 Ever faithful First Mate Ida assists in another lock.
Page 1 Departure to Oswego, NY
This is Page 2 Oswego, NY to Amsterdam, NY
Page 3 Schenectady, NY to West Point
Page 4 New York Harbor
Page 5 New Jersey & Delaware
Page 6 Annapolis & Washington D.C.
Page 7 Strange Sights of the Chesapeake Bay
Page 8 Norfolk, VA & the Intracoastal Waterway
Page 9 North Carolina
Page 10 Charleston, SC to Miami Florida