Photo Gallery of the Maiden Cruise of the Canistel -- 2000 miles in 28 days -- Toronto to Miami
Page 9 North Carolina < Previous > < Next > Cruise Report Mark's Homepage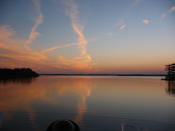 Cruising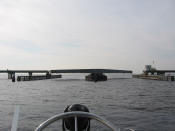 Watch how this bridge opens...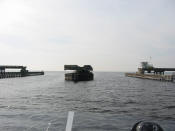 Same bridge...now it's open & I can pass through. I passed through dozens like this...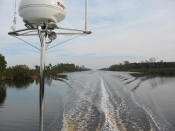 Much of the waterway looks like this.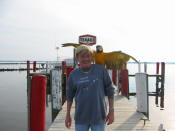 Cute old Bird! (The one to the right).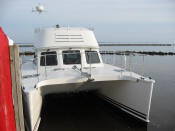 I was moving so fast, I barely knew where I was. This quaint North Carolina town was very charming, and quite a bit warmer than Toronto!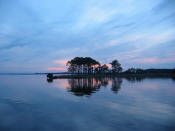 Serene water along the ICW (Intra Coastal Waterway).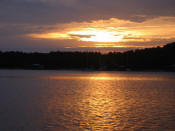 I found cruising in early morning was very enjoyable.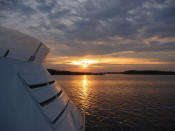 By mid-day, I'd cover most the miles for the day.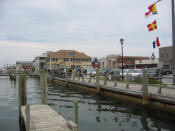 Beautiful Beaufort, NC. A very quaint town near Morehead City. From here I took to the Atlantic & made excellent time in calm offshore waters.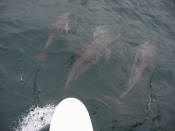 Dolphins are swimming at the same speed as my boat just a few feet in front of my bow. This is off the coast of South Carolina.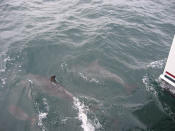 Besides always being harbingers of good luck, the dolpins also heralded the first fleeting scent of the tropics.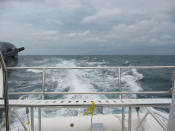 The view astern while making excellent offshore headway.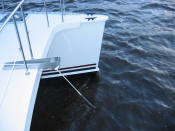 I anchored for the night like this about 40% of the time. It was free, but isolated.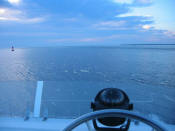 Near Southport, SC.
Page 1 Departure to Oswego, NY
Page 2 Oswego, NY to Amsterdam, NY
Page 3 Schenectady, NY to West Point
Page 4 New York Harbor
Page 5 New Jersey & Delaware
Page 6 Annapolis & Washington D.C.
Page 7 Strange Sights of the Chesapeake Bay
Page 8 Norfolk, VA & the Intracoastal Waterway
This is Page 9 North Carolina
Page 10 Charleston, SC to Miami, FL